Ticker

Types of Tickers:
Ticker widget is normally a marquee widget which scrolls Horizontally or Vertically

Horizontal:

Vertical:
Options in Ticker Widget:
Under widget type select the widget type as Ticker, So you will have options related to the widget in our visual widget editor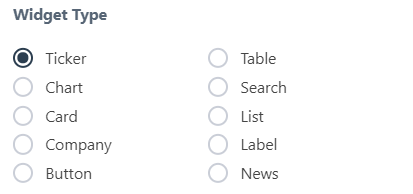 Stocks:
You can select any number of stocks to be displayed as a Ticker in this option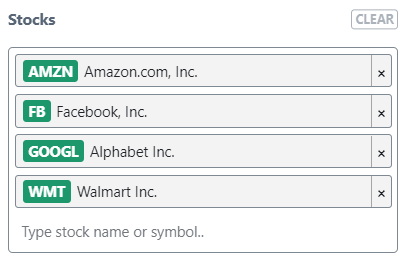 Ticker Position and Ticker Speed:
Three options for ticker position which are Header, Footer and Anywhere
You don't have to paste the Shortcode if the Ticker position is selected in Header or Footer. The ticker will automatically be added to your webpage header or footer
Ticker speed can be adjusted from 0% to 200%, where 100% is the normal speed of the Ticker and 0% is to stop the Ticker from scrolling.
Tip: Anything between 0% and 100% is recommended for Ticker Speed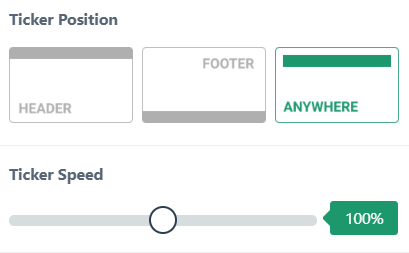 Ticker Direction, Display Options and Appearance:
The Ticker Direction can be set in either Horizontal or in Vertical
And using Display option you can set the data to be shown in the Ticker such as Symbol of the stock, Name, Change and Change percentage of the Stock
You can change the appearance of the ticker using the Appearance option such as Round corners, Glossy appearance, Show logos, Highlight logos, Chart and Link to Stock Pages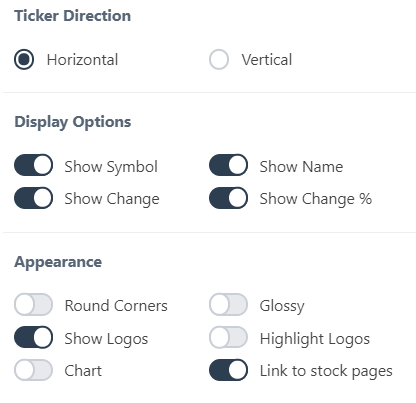 Font:
The font can be changed in the settings and our plugin supports google fonts
Once you have selected the fonts you want in the settings page, the fonts will be displayed in the drop down in the Visual widget Editor
Chart Colors:
If enabled in the appearance the chart colors can be customized by this option the customizable options include Line, Fill and Gradient.
Colors:
The Text and Background color of the Ticker can be editted with this option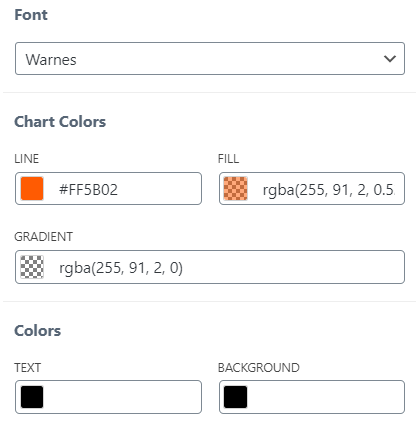 Once you have created the widget copy the Shortcode (Not needed if you have selected Header or Footer) and paste it in the section of a webpage where you have to display the widget and update and preview.
Still can't find what you're looking for?
Write to us: [email protected]