Style
Configure the visual style of the notification. Fommerce offers easy to use options to re-create any look in little time.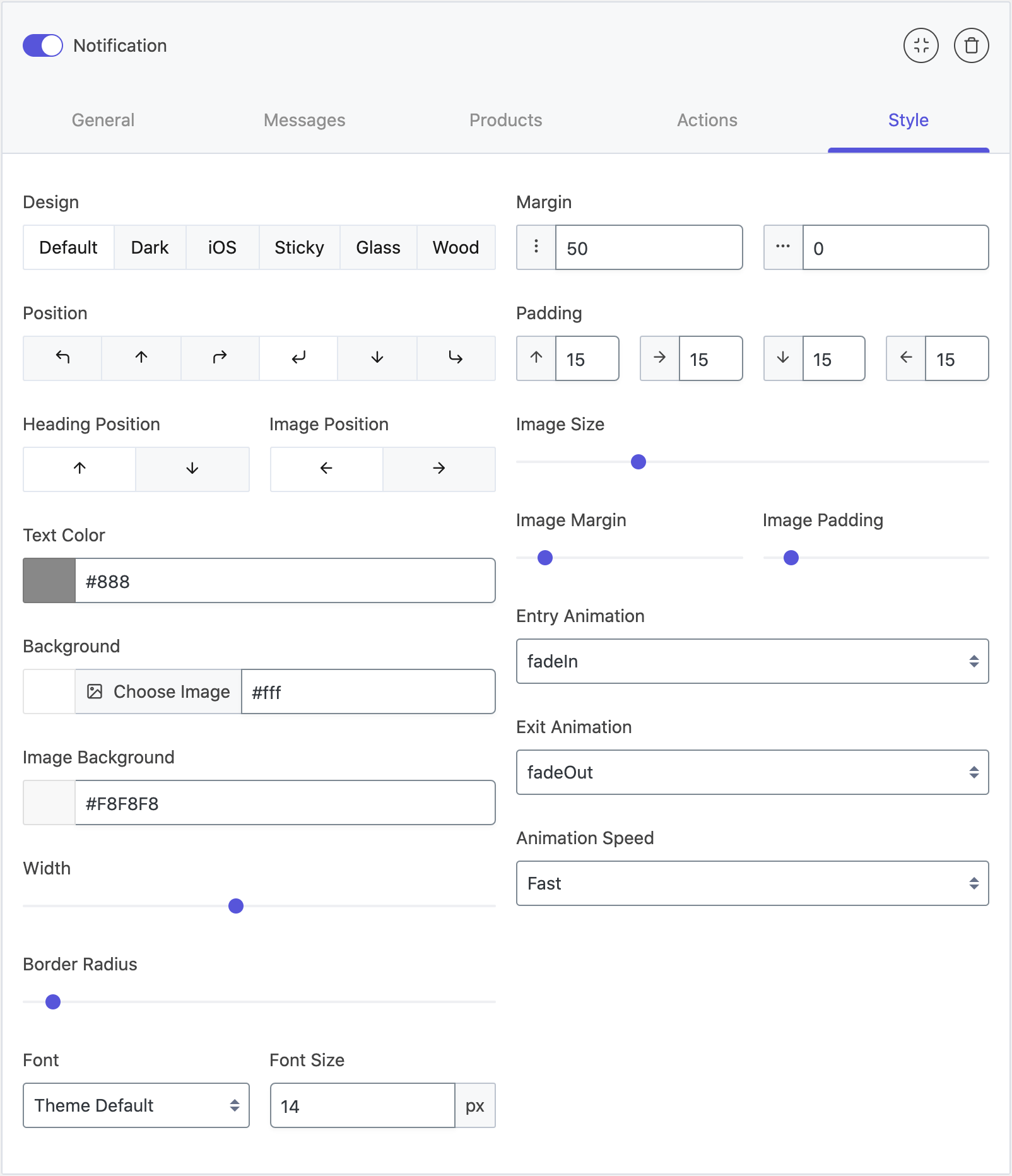 Design
Predefined themes for the notification. Changing the theme sets different options like text color, background color automatically.
Important: Changing the design will reset the messages
Position
Choose between six areas of the screen where the notification appears
Heading Position
Select whether the heading text applies above or below the notification. Applies only if Header / Footer text is not blank.
Image Position
Select whether the feature image appears left or right of the notification.
Text Color
Choose the overall text color using the color picker
Background
Choose background color of the notification. You can also select an image as the background.
Image Background
The background color surrounding the notification image (product image, icon, etc) for a nice highlight
Width
The maximum width of the notification
Border Radius
Set the curvature of notification corners to make it squared or rounded.
Font
Choose from available Google fonts to personalize the notification. Or set Theme Default to not set any font.
Font Size
The overall font size of the notification
Margin
The horizontal and vertical distance between the screen edge and the notification in pixels.
Padding
The spacing between notification border and its text message.
Image Size
Make the feature image bigger or smaller.
Image Margin & Padding
The margin and padding of the feature image inside the notification. Set Image Background color to visualize the changes.
Entry Animation
Animation when the notification enters the screen
Exit Animation
Animation when the notification exits the screen
Animation Speed
Control how fast the notification enters and leaves the screen. Options including faster, fast, normal, slow, slower are available.