Content
For every web-page, content is the main source which attracts customers or page viewers
Using our Emage Hover Effects you can enter the desired content in the image
And the fun part is you can add effects to the content you have created
The content can be entered via three boxes namely Title, Sub Title, Content.
Click Here to view content effects demo
Title:
Insert the title of the content to be displayed in the content box
Sub title:
Insert the sub-title for the title for which the content is going to be displayed
Content:
Insert the content you wanted to display in the image
Icon:
You can select the desired icon from the icon library related to the content you have written.
You can also upload your own icon library, for doing so you have to upgrade to Elementor Pro !
Alignment:
Alignment of the content along with icon can be adjusted by vertical or horizontal alignment
- Color and Typography of the content can be changed under Style option
- Icon color and size can be changed under style option
Hover Effects:
You can apply hover effects for all the contents you have written over the image with this option
Transition Duration: Used to control the duration of the content hover effects
Transition Delay: You can apply delay for the content effects using this option


Buttons:
You can add buttons along with the content, Click on Add Item to add the button
Click the button field, you will get an option like below image, There you can,

edit the name of the button
add icon to your button
Link the desired URL to the button

Alignment and icon position of the button can also be edited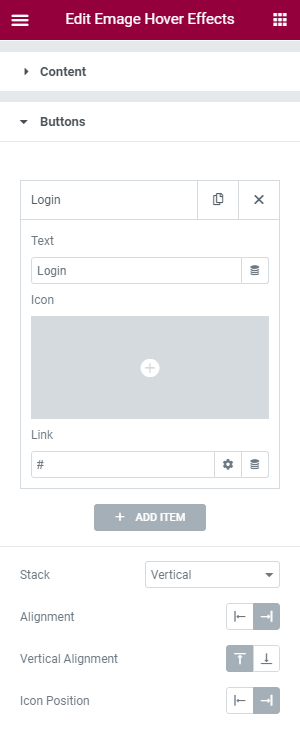 Under Style - Select Buttons, There you can customize the button according to your needs

Customization includes color of the text, background of the button, font family and size and many other options are there, please find the below screenshot to have an overview of what can be customized